The NHIVNA / Gilead HIV Nursing Award was set up in 2007 to recognise the outstanding achievements of nurses who have made a significant or unique contribution to the care and quality of life of people with HIV. These contributions could be in relation to:
Innovation and excellence in improving patient care

Service delivery

Multi-disciplinary working

Workforce planning

Establishing new standards of care

Developing new ways of working

Something out of the ordinary
All current NHIVNA members are eligible for this award, please note that previous winners of this award are not eligible for nomination.
Please download the application form for you to nominate someone who you feel has made an outstanding contribution in the field of HIV nursing care.
Once completed, please email your application to conferences@nhivna.org. The deadline for receipt of your applications is Friday 17 May 2019 and the winners of this prestigious award will be announced at NHIVNA's Annual Conference in Manchester on Friday 28 June 2019.

Previous winners
2018: Heather Renton, East Sussex Healthcare NHS Trust

2017: Michelle Croston, North Manchester General Hospital

2016: Jane Holder, Musgrove Hospital Starling Clinic

2015: Gary Barker, St Helen's and Knowsley Teaching Hospitals NHS Trust

2014: Pauline Jelliman, Liverpool Community Health NHS Trust

2013: Anna Bamford, Sussex Community Health NHS Trust

2012: Jane Bruton, Chelsea and Westminster Hospital, London

2011: Shena Boyle, Western General Hospital, Edinburgh

2010: Breda Patterson (Ward), Chelsea and Westminster Hospital, London

2009: Maxine Owen, Birmingham Heartlands Hospital

NHIVNA / Gilead Sciences HIV Research Nurse of the Year Award
The NHIVNA / Gilead HIV Research Nurse Award was awarded for the first time in 2017, recognising a nurse who has conducted a unique piece of research or audit for 2018.

Winner
2017: Dr Eileen Nixon, Brighton and Sussex University Hospitals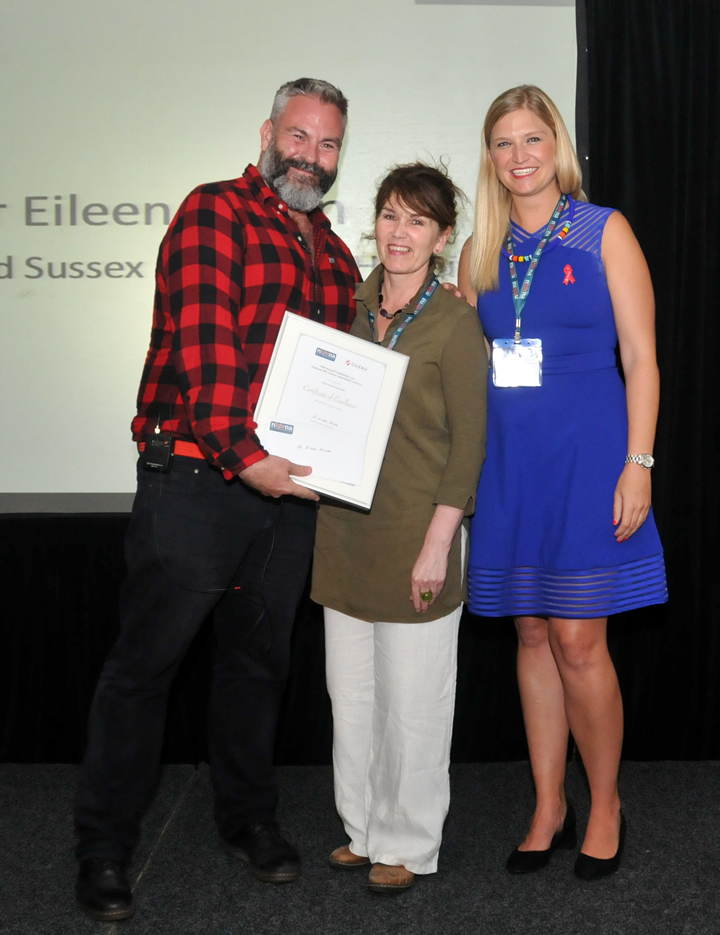 Pictured: Shaun Watson (NHIVNA Chair), Eileen Nixon and Cindy Elliott (Gilead Sciences)