Advanced Nursing practice in HIV care
Guidelines for nurses, doctors, service providers and commissioners
These guidelines are unique and should be regarded as not only a first in HIV nursing, but a first in the nursing profession.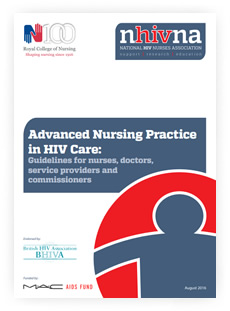 HIV Home Testing Kits – NHIVNA Position Statement
The Department of Health revealed that from April 2014 HIV-positive healthcare workers on combination antiretroviral therapy who have an undetectable viral load will be able to carry out all dental and surgical procedures. The findings are based on up-to-date scientific evidence, which brings the UK in line with most Western countries.
A new confidential register run by Public Health England will monitor the treatment and viral load of HIV-infected doctors, dentists and nurses every 3 months to safeguard patients. The Department of Health emphasised that the decision allowing an HIV-positive healthcare worker to undertake certain procedures will be made on a case-by-case basis.
The new regulations will also allow people to buy self-testing HIV kits to use at home from April 2014. This will enable the testing kits to be regulated, ensuring people are buying kits that have been properly tested for accuracy.
If the home test shows a positive reaction the user will be advised that this is a reactive result and will need confirmation. The individual will need to access a healthcare setting for a confirmatory test to establish if they have HIV infection.
Related items
BHIVA guidelines
Since the 1990s, the British HIV Association (BHIVA) has been producing guidelines for the management of HIV infection, which, while primarily intended for the use of UK physicians, have international influence.
View all current BHIVA guidelines
BHIVA guidelines summaries
These non-technical versions of BHIVA guidelines were commissioned by BHIVA and produced by NAM (www.aidsmap.com).
NAM's information is intended to support, rather than replace, consultation with a healthcare professional. Talk to your doctor or another member of your healthcare team for advice tailored to your situation.