Current issues in HIV: where are we now?
Wednesday 12 October 2011
Mayfair Conference Centre
17 Connaught Place, London, W2 2ES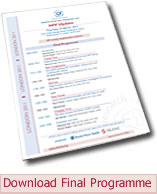 This Study Day was held at the Mayfair Conference Centre in London on Wednesday 12 October 2011.

Programme
Disclosure of HIV
Amanda O'Donavan, Barts and The London NHS Trust.
Partner notification
Donal Heath, GMFA.
HIV and co-infection with hepatitis B and C
Ricky Gellissen, Imperial College Healthcare NHS Trust, London.
Mental health and 30 years of HIV
Dennis Dobbin, South London and Maudsley NHS Foundation Trust.
HIV, contraception and pregnancy
Ursula Harrisson, Chelsea and Westminster Hospital, NHS Foundation Trust, London.