NHIVNA is delighted to announce its first audit, which is a national clinical audit of psychological support and emotional well-being among adults with HIV infection in the UK.
The working objectives of this audit are:
To identify to what extent the standards of care for psychological support for people living with HIV are being met within HIV specialist services

To identify any gaps in current services based on the standards of psychological support in relation to patients psychological well-being

To identify strategies to improve psychological well-being based on the audit findings.
The audit comprises two components, a site survey to be completed once for each clinical service, and a patient case-note review audit. Sites with fewer than 500 adult HIV patients under care are asked to audit a sample of 20 of these, and sites with 500 or more adult HIV patients are asked to audit 50. Both the site survey and the case-note review sections use the same online questionnaire – on accessing this you can choose which part you wish to complete on a given occasion.

 
Thank you to everyone who took part in the audit. The report is now available to download below.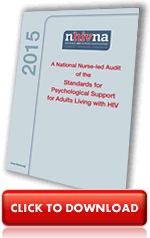 The NHIVNA Audit of the Standards for Psychological Support for Adults Living with HIV was funded by an educational grant from Janssen.